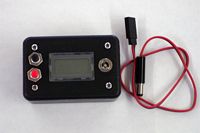 Pro-ESV Tester (RAD2050)
$44.99

Pro-ESV Tester
The new Pro-ESV Tester is now available! A LCD Digital display make accurate and easy voltage readings a reality! This new unit can check NiCad's, NiMH, Li-ion, and Li-PO batteries up to 20 volts!
The included Futaba "J" adaptor will test most all major brands of RC battery packs. However, additional adaptors are available to fit your requirements, or you can also easily make your own as needed.
The Pro-ESV Tester will serve as a DC volt-meter when non of the load buttons are pressed.
The BLACK load-button will give a 500 MA load to the pack being tested. The RED one will give a 1000ma (1AMP) load. By pressing both at the same time, you can put a whopping 1.5amp load on your pack!
Compact and light weight, the Pro-ESV Tester will fit easily in your pocket or in your flight box, ready when needed. Don't wonder if you have enough battery life left to fly…. use the Pro-ESV Tester and be SURE!
The Pro-ESV Tester has a two-year limited warranty.
FEATURES:
Simple, easy to use design
circuit design puts a load on the battery, for true voltage readings
Calibrated to within .05 volts for reliability
Limited 2-year Warranty*
*Limited 2-year warranty covers the unit against failure of the electronics. Items NOT covered are the case.