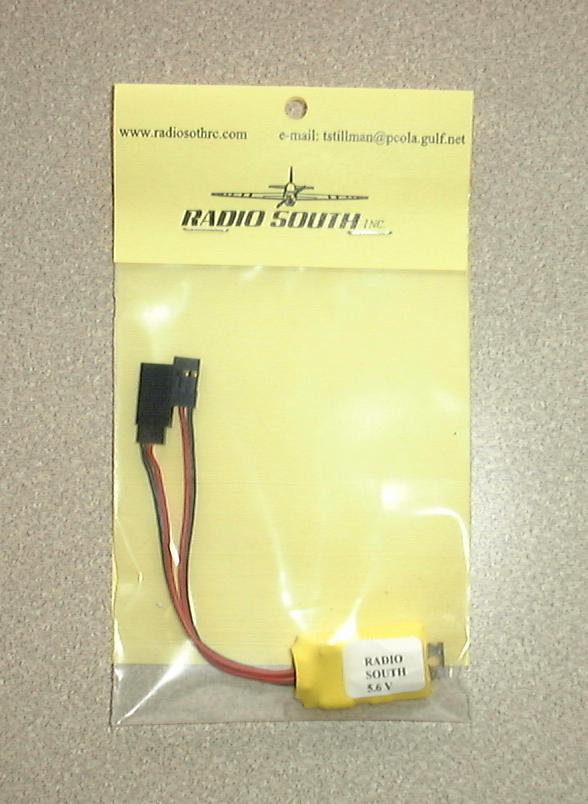 Voltage Regulator, 5.1v (RAD5030)
$36.99

Voltage Regulator, 5.6v (RAD5040)
$36.99

Voltage Regulator, 6.0v (RAD5050)
$36.99

Radio South Voltage Regulator
This new voltage regulator is designed to provide a consistent, safe voltage to your receiver and servos. By using a regulator, you can ensure that you have enough "head voltage" to keep the receiver from shutting down during high-current drain maneuvers, especially with Digital servos.
Specifications:
Size: 1.75" x .75" x .50"
Weight: 19 grams
Output current: 10 amps
Benefits include consistent "feel" in the model due to constant voltage
Increased speed and torque
Longer servo life
Three versions are available, 5.1v , 5.6v and 6.0 v output . All will operate with input voltages up to 10volts.
Frequently Asked Questions:
1. What is the input voltage? A: INPUT VOLTAGE 6-10 VOLTS STANDARD. AS THE INPUT VOLTAGE GOES UP, THE HEAT GENERATED BY THE VOLTAGE DROP WILL
INCREASE.
2. What current will it handle? A: IT WAS TESTED AT 7 AMPS. IT WILL GET WARM BUT CONTINUES TO OPERATE. DO NOT MOUNT NEXT TO FUEL TANKS, Etc.
3. Is it a linear unit? A: YES IT IS LINEAR, BUT WE ARE CYCLING IT.
4. Will it work with LiPO batteries? A: YES! IT IS LIPO COMPATIBLE